Spring break is the time for students to unwind and forget about school for a week. As the song goes, no more pencils, no more books, no more teacher's dirty looks.
Typically, when you think about spring break, you think about droves of scantily clad students flocking to paradise-esque beaches in Florida, Hawaii, or Mexico. Movies have been made about it, social media posts glorify it and, when you're a student, you live for those moments and memories.
One thing you don't always think about when it comes to spring break is the logistics. The cost of plane tickets purchased. The number of gas tanks filled. The quantity of hotel rooms booked. The lost luggage along the way. The price for students to go on spring break around the world each year is staggering to think about.
That's part of why Convenience Kits International exists. We aim to take some of the guesswork out of travel, whether it be for a family vacation across the country or a spring break getaway to the beach with your fraternity brothers.
Ask yourself, have you ever prepared for a trip, any trip, and gone to your local drug store to purchase miniature bottles of shampoo, toothpaste, and any other toiletries that may be prohibited in their full-size on an airplane, or potentially not available in the area you're going to?
Or has there ever been a time when the store didn't have an item you needed for your trip? Did you have to come up with a creative way to make sure everything fit in your luggage without exploding or spilling all over your clothes? Chances are the answer is a resounding yes.
At Convenience Kits International, we offer the opportunity to build your own customized travel kit, all neatly packed in a convenient carrying case that includes all the products that you use on a daily basis. We've got options for men, women, and children with all of your favorite products ready-to-go for any trip or vacation...including spring break.
Today, we're going to introduce you to three options perfectly suited for men on the go for this year's spring break.
It's already March. The year is rapidly flying by and, for students, it means it's time for a break. Not just any break, though. THE break of the year.
Young Men's Premium 16-Piece Travel Kit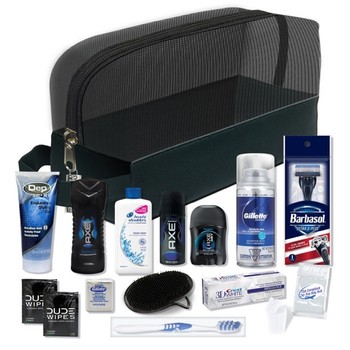 The Young Men's Premium 16-Piece Travel Kit has everything a young man needs when he's on the go. And don't worry, we're not talking about the boys section here. Whether you're 14, 24, or 34, this kit works for you. Heck, even if you're 54, you'll undoubtedly recognize these items and get plenty of use from them when travelling.
Containing premium brands like Edge, Axe, and Gillette, this kit has everything you need to maintain your look this spring break. After all, spring break can get pretty messy. From beach parties to late nights at the club, you always want to be looking, smelling, and feeling your best.
Whether you're flying to a tropical paradise, heading to the slopes, or road-tripping down south, this kit is 100% TSA compliant and it comes with a quart-sized bag for ease of travel through airport security. Included in the kit are:
Edge Shave Cream 2.75 oz.
Head & Shoulders/Old Spice 2 in 1 Shampoo+Conditioner 1.7 oz.
Axe Body Wash 3 oz.
Axe Deodorant Body Spray 1 oz.
Axe Deodorant .5 oz.
Crest Toothpaste .85 oz.
Toothbrush with toothbrush cover
Dep Gel 2 oz.
2-Dude Wipes
Mach 3 Disposable Razor
Glide Dental Floss 4 yd.
Palm Scalp Brush
TSA Compliant Quart Size Zip Top Bag in Rectangular Mesh Zippered Bag
That's a full-service pack of the leading brands, all for less than $25 and, as always, when you buy with Convenience Kits International, the more you buy the more you save. So load up the entire frat or dorm, and save big for this year's getaway.
Axe Extreme Mini-Premium Kit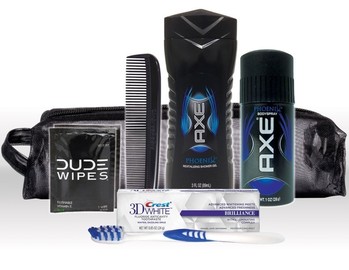 Axe is one of the most recognized men's grooming brands in the world. Known for their "extreme" product names and eye catching advertisements, consumers recognize Axe as a leading brand catering to men.
This kit is more compact than some of our others offerings at CKI, but that's not to say it doesn't have exactly what you need for this year's spring break. This is especially true if you err on the side of minimalism when it comes to your personal hygiene routine, even more so when on vacation!
This Axe kit comes conveniently packed in a mesh bag with the products arranged so that the whole set looks like a bottle of Axe shampoo or body wash. Included in the kit are:
Axe Deodorant Spray 1 oz.
Axe Body Wash 3 oz.
Crest toothpaste .85 oz.
Toothbrush
Comb
2 - Dude Wipes
Perfect for a weekend getaway with your bros, with everything you need to stay fresh for the ladies, all for less than $10.
Men's 10-Piece Deluxe Hygiene Kit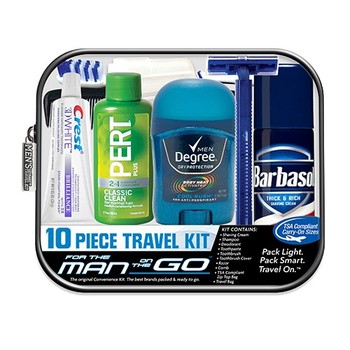 Containing leading brands in conveniently sized bottles and compliant with TSA rules and regulations, this CKI travel kit is small enough to fit in virtually any bag and packs enough product to keep any man fresh and clean for a week away.
There's no need to rummage under your sink cabinet or portion out from your big bottles in the shower. Leave all the big bulk at home, grab one of these kits, and you're all set for an entire week with your friends. The kit Includes:
Barbasol Shave Cream 2.25 oz.
Pert Plus Shampoo + Conditioner 1.7 oz.
Degree for Men AP Deodorant .5 oz.
Crest Toothpaste .85 oz.
Disposable Twin Blade Razor
Toothbrush with Toothbrush Cover
Comb
Quart Size Zip Top Bag in clear reusable zippered rectangular bag
Listen, we know no guy really wants to talk about grooming...it's one of those "taboo" subjects that guys typically don't discuss. That's okay, because all of our kits are conveniently sized and packaged, ready to grab and go - no discussion necessary. Whatever your destination for this year's spring break, Convenience Kits International has a toiletry travel kit to meet your needs. So, where are you headed this spring break?